Reviewing Source Code Pro: A Many-Sided Coding Font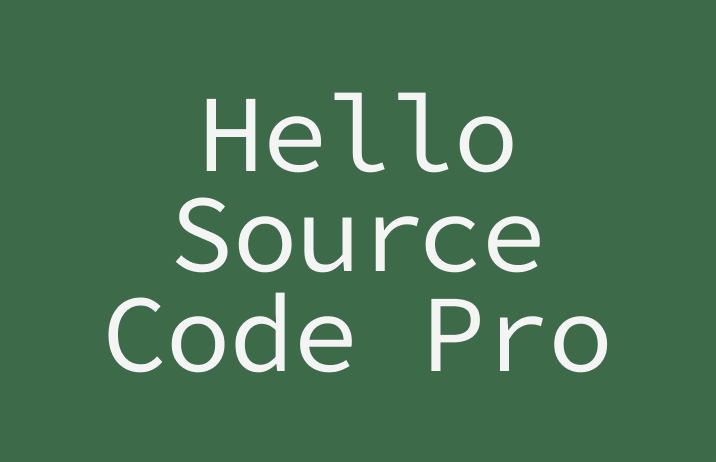 Welcome to Typogram's FontDiscovery newsletter, written by your resident font and design nerd, Hua. Want to learn more about font and design? Subscribe FontDiscovery to get weekly doses of learning and inspiration♪
---
In This Issue…
How to Use Source Code Pro for Logo, Branding, and Coding
Font of the Week: Source Code Pro

Design idea: How to Make a Great Product People Love
---
Font of the Week 
About Source Code Pro
We profiled several fantastic monospaced fonts for coding in this newsletter, including JetBrains Mono and Victor Mono. Today we introduce another great coding font into the mix, Source Code Pro. 
A popular coding font, Source Code Pro has a calligraphic touch comforting to the eye and a wider character width optimized for screen reading. The italic is recognizable enough with true construction for some lowercase letters, like "g" and "i." 
With multiple weights and styles, Source Code Pro is versatile enough for more complex typography systems for charts, graphics, and presentations.
Font Details
Coding ligatures with Hasklig (See below)

Mostly oblique italics with some true italics constructions, like double story "g"

You can choose between Dotted or Slashed 0
Font Pair to Source Code Pro for Coding
Hasklig
Since Source Code Pro does not have coding ligatures (connecting characters for symbols like arrow), and is open-sourced so others could modify the font, Hasklig was created to fulfill the need for coding ligatures. So if you want Source Code Pro but with coding ligatures, give Hasklig a try.
How to use Source Code Pro for logo?
Source Code Pro is perfect for marketing because it gives you many weights to use and experiment with. It is great for marketing graphics, especially if the subject concerns tech or coding.
How to use Source Code Pro for marketing and branding?
Being a monospaced font, Source Code Pro naturally reminds us of technology. The bolder weights, like bold or semi-bold, are perfect for tech brands. It has an objective tone while retaining a quirk that makes the logo recognizable and unique.
---
Design Idea of the Week
How to Make a Great Product People Love
This week enjoy this fun visual I made accompanying our guide How to Start and Grow a Business Without Money.
---
Creative Prompt 
Create something with Source Code Pro.
---
Thank you
…for reading and hanging out here this week! Source Code Pro is open-sourced.